Artist Information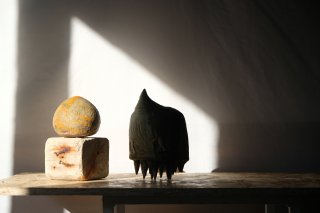 My work can always be seen and purchased by appointment at my studio in Batheaston near Bath. (Photo by Gus Wallis from recent open studio). Please contact me via the contact page if you would like to visit.
There are many layers to my work. It is about surfaces, texture, imprint, memory and a sense of place. There is an archaeological feel to the work, which often references collections of various sorts. The ceramic pieces are handbuilt, sometimes using press moulds, and imprinted using found objects and clay stamps that I have made. Layers are built up of slips glazes, oxides and small fragments of found material. The work is on a mainly human scale; something you can hold in your hand. I also make mono prints using clay to print from. The clay gives a soft and richly textured feel to the prints. All of the different elements of my work (ceramics, prints, educational and socially engaged practice) are interconnected, and the immediacy of working on a monoprint can help to resolve the ceramic work. Similarly the playful aspect of working with families in workshops at Museums and galleries helps to nurture the experimental in my own work.
I have also made some pieces that have been cast in bronze and are sited in an outdoor public space at Bath Riverside.
C.V.
Art Foundation course: Middlesex Polytechnic
BA hons. Ceramics: Wolverhampton Polytechnic
I have combined being an artist with working in galleries in London and Bath, (Crafts Council, Contemporary Applied Arts, Six Chapel Row/Chapel Row Gallery) and with bringing up a family. More recently my focus has been on running workshops to support creativity in others and working on socially engaged projects. I currently also work at the Art Shop at Bath Spa University (new Locksbrook campus) where I can share my love of materials.
Exhibitions/ Work Shown/ Commissions/ Artist Educator Projects:
October 2021: Batheaston Art Trail with Grow Batheaston.
Current project: Developing a series of workshops around clay, wellbeing and collections.
Current project: One Moon / My Moon, an educational project with https://www.creativityandcuriosity.com/exploring our collective relationship with the moon.
Summer 2020: Two week project with House of Imagination as an artist in an outdoor setting with 40 children from across Bath.
Ongoing 2020: Work sold via Instagram with the Artist Support Pledge.
Spring/summer/autumn 2020: Virtual Forest with Forest of Imagination, The Big Draw and TedX Bath
Throughout 2019; work exhibited and sold from open studio events.
Spring 2019: Artist's book 'Ink Blot Bug Book' printed and sent out with the spring edition of the Journal of Artist's Books.
September 2018 and June 2019 Artist educator project: Clay Forest for Forest of Imagination, collaborative project where 1000 clay trees were made by the public in in the centre of Bath to reflect on trees and what they mean to us, and placed together into a collective forest. The 2019 Clay Forest was also extended to a fired version around the whole window of the back of the Holburne Museum.
June 2018: Ocean Matters, Bristol Aquarium, exhibition with Bath Spa University Schools of Art and Design.
May 2018: Artist's book made as part of #getoutofyourcar exhibition for Fringe Arts Bath.
May 2018: Edition 4 Open Printmaking Exhibition, 44AD Bath
March 2018: Surface, group exhibition at Heritage Courtyard Studio, Wells
October/November 2017 'Here's One We Made Earlier' staff exhibition, Sion Hill, School of Art and Design, Bath Spa University
June 2017 'Open Plan', exhibition of the work of the staff of the School of Art and Design, Bath Spa University
2016/2017 Project for the Holburne Museum, Bath, http://www.holburne.org/events/a-new-portrait-for-bath-a-celebration-of-work-with-local-schools/
July 2016: Photograph of 'Collected Findings' series selected for Evolver Prize Exhibition, Black Swan Arts, Frome
May 2010 to 2017, Larkhall Open Studios, Bath
November 2015 (and 2014) : commissioned to make a giant lantern for the Holburne Museum's lantern procession, Bath
October/November 2015: Open Ceramics at Salisbury Arts Centre
October 2015: Cambridge Art Fair (exhibiting with Acuity Arts)
December 2013: The American Museum in Britain, Bath
November/December 2013(and February/March 2012): Royal United Hospital, Bath
November/December 2012(and November/December 2010): The Pound Arts Centre, Corsham
September 2012: Five bronze pieces commissioned for the Bath Riverside development
November/December 2010: Present Makers, Thelma Hulbert Gallery, Honiton, Devon
September 2009: Two person show at Chapel Row Gallery, Bath
And before that various group exhibitions at Chapel Row Gallery (and previously at Six Chapel Row), Bath, and also at The Chalk House, St Ives and Wolverhampton Art Gallery. Ongoing artist educator work with Forest of Imagination and House of Imagination over many years.

Workshops:
I regularly run workshops that aim to support people's own creativity, and work on socially engaged projects in various contexts. Please see workshops page for details.