Artist Information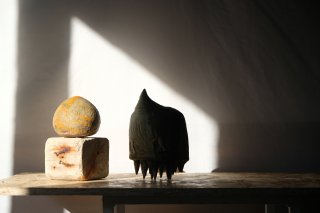 Clay and found objects are at the heart of my practice, alongside a focus on touch and holding. I make imprints in the clay as a way to record a time, a place, a feeling.
My central practice is ceramics, but I also make prints, drawings and installations from these processes.
I have been a practicing artist since completing a ceramics degree in1989, and alongside this have had jobs in galleries, as well as an artist educator strand to my practice, supporting creativity and wellbeing in others by using clay in an exploratory way.
My work is in an outdoor public space, as well as private collections in the UK and other countries. Work can always be seen and purchased by appointment at my studio in Batheaston near Bath. (Photo by Gus Wallis from recent open studio). Please contact me via the contact page if you would like to visit or to know more.